Managing External File Viewers
To Add, Change, Edit or Remove External Viewers
Open the External Viewers Setup Panel by:
Select Options > Program Options... from the main menu

or click the Options button:

In the Options dialog select the Viewers Panel.

or select Tools | Auto-Viewers On/Off > Setup... from the main menu to display the options page directly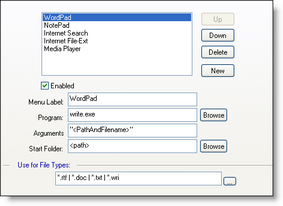 If the program field is empty and the Arguments field contains "<PathAndFilename>" FileBoss will attempt to open the file using the default program for that type of files. This can be useful for standard file types such as MP3 and TXT files.
The tools will be then be displayed on the main menu and right-click menus when a file they apply to is highlighted.
(showing that the WordPad tool is active.
Select a viewer to toggle it on and off.)