Loading Files From Flash Drives
To Load Files From Multiple Flash Drives at Once
Select the flash drives from which you want to download the files by going to the My Computer folder (or the Computer folder on some Windows) and select the drive in the right hand window.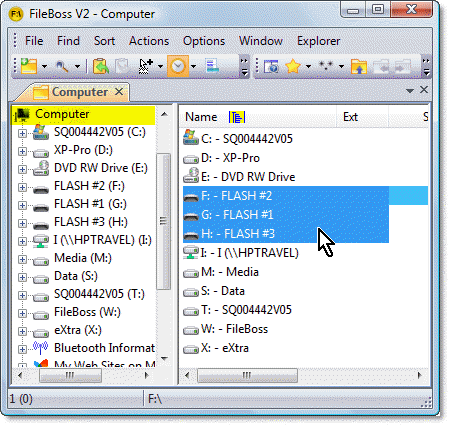 Use the Actions > Flatten Folders... command from the main menu.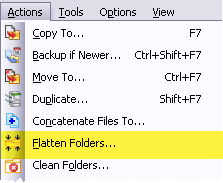 Specify the target folder and any additional options

Enter the Destination folder.


This will be the folder to which all the files will be copied. All photos form All selected drives will be copied to this folder.

Enter the Optional file patterns to include/exclude.


Multiple patterns are separated with the semi-colon (;), comma (,) or bar character (|). To exclude patterns precede them with the minus sign, e.g.
-*.bak
In the above example all jpg, raw and tif files will be copied if they exist on the drive.

Default renaming.


By default FileBoss will append a sequential number to any file that is being copied but already exists on destination drive. For example if the first drive has a file named DCS05876.TIF and the second drive has a file by the same name it will be copied and renamed to DCS05876 (001).TIF.
If you would like to change the format or the numbering for files with the same name, click the Advanced button to expand the dialog for the advanced options. To see the expanded, advanced dialog click here.

Click

OK


begin transferring the photos from the Flash drives to the folder you specified.